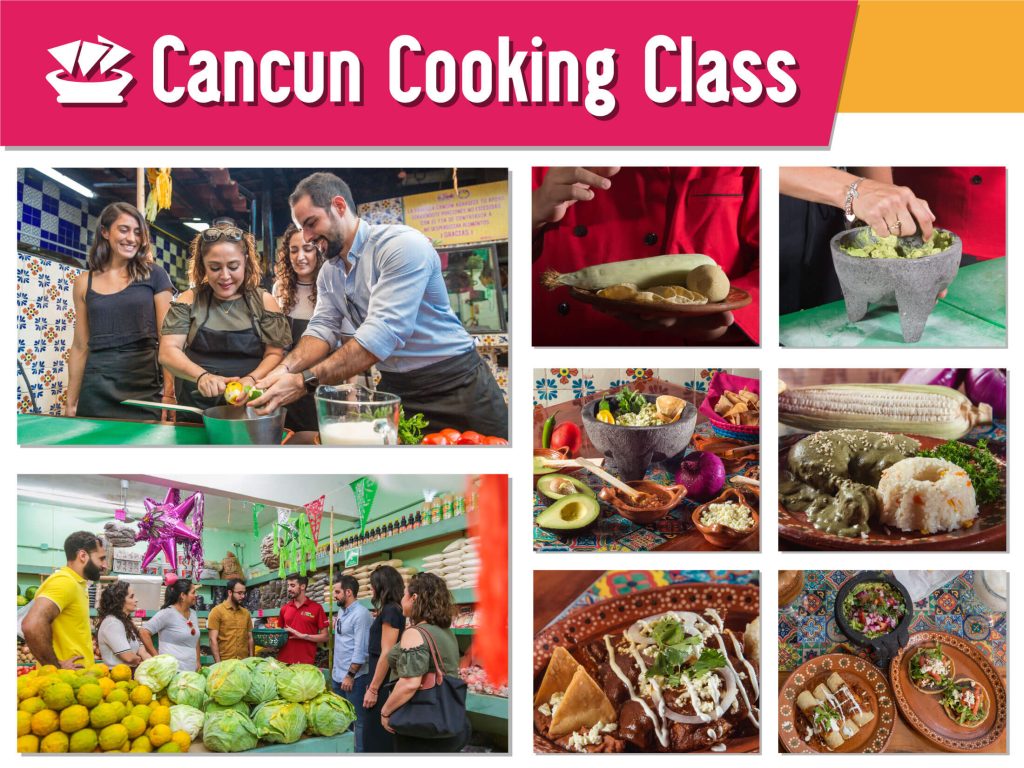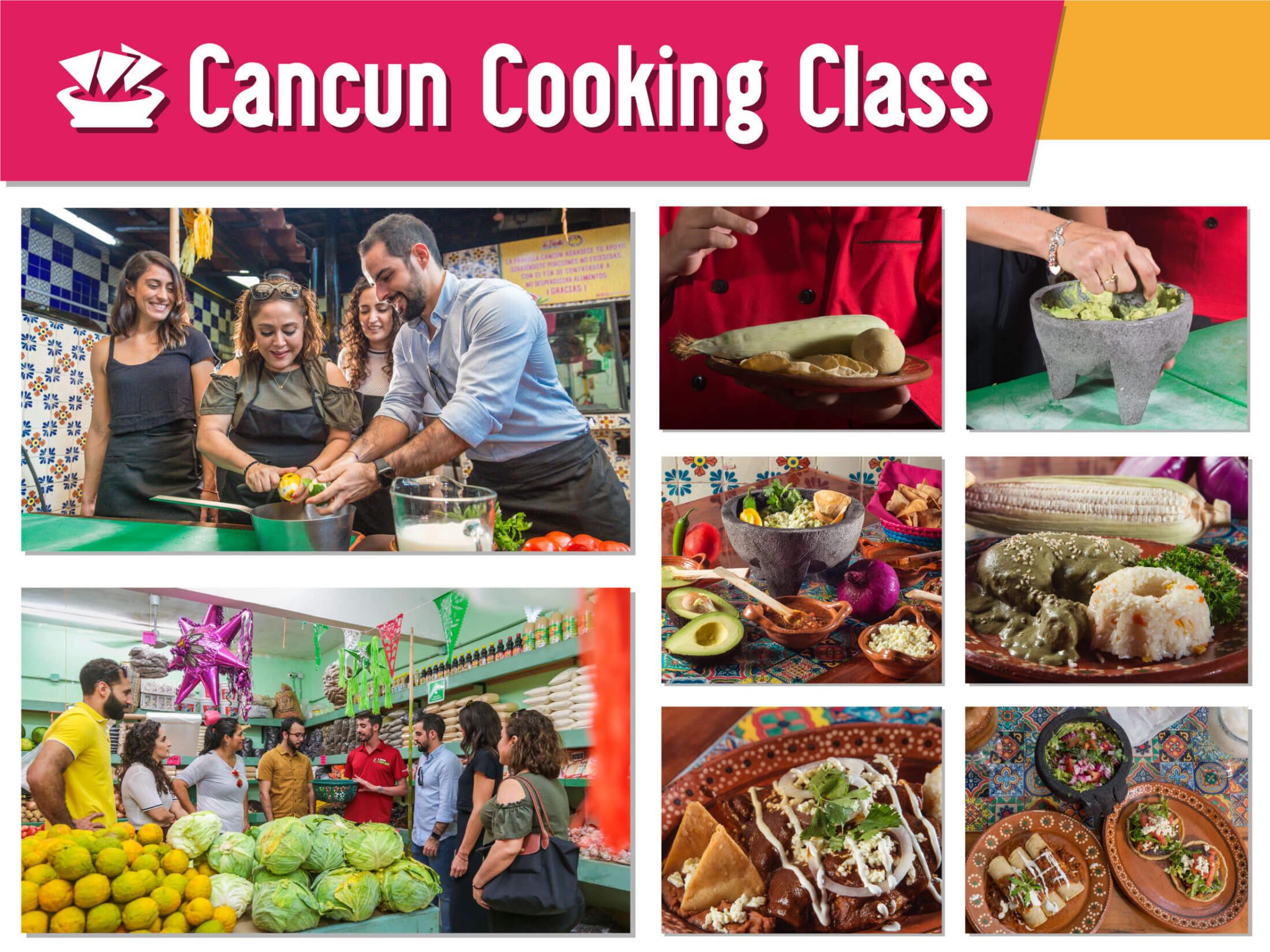 Mexican Cooking Class in Cancun with fresh Local Market ingredients selection with transportation.
Learn how to cook several Mexican traditional dishes, a very tasty dessert & the secret for a perfect margarita with our Cancun Cooking Class.
Go hands-on with our Cancun Cooking Class & learn the secrets of Mexican cuisine under the directions of our expert chef in a real Mexican restaurant kitchen.
Visit one of the most iconic traditional "Mercados" (Markets) in Cancun & learn to hand-pick each ingredient to make the perfect recipes.
Cook your own hand-made tortillas & sopes. Believe us, you haven't tried a tortilla this delicious. And you can bring the technique back home!
Become an expert using traditional utensils used in antique Mexican cuisine, such as The Molcajetes and Comales.
Why are Guacamole and Margaritas in Mexico different? Learn the secrets to impress your friends back home.
Transportation Included
Hotel pick-up and drop-off included

Vegetarian and Vegan Options
Everybody can join us!

Personalized Attention
Limited to 10 People per class
Book Mexican Cooking Class in Cancun
Our cooking class is mostly made for adults 18+ and kids 10+.
We strongly recommend to respect the restriction since we want the tour to be pleasant to all our guests.
Free Tequilia tasting booking online!


What to expect from our Cancun Cooking Class
Taking cooking classes in Cancun will definitely be one of the best things to do in Cancun. After your hotel pick up our chef will take you straight to one of the most visited local markets in Cancun. Get ready to delight your senses with the colors, sounds and scents the market morning activity. Stroll around through different food sections and immerse yourself in the smell of different herbs, vegetables, meat and sea food. Our chef will tell show you how to choose freshest items for our cooking class.

Once you arrive to our venue, refreshments, fresh fruit, water/coffee will be provided. Our venue offers an intimate setting at one of the best Mexican restaurants in Cancun which opened more than 40 years ago. Spend the next 3 hours learning the tricks behind great Mexican traditional cooking and listening about the origins behind each dish and how they came to be. Experience the real warmth of a Mexican kitchen using traditional tools like Molcajete (stone mortar), Comal (flat griddle) and clay pots.
Cook an amazing lunch from tacos, sopes, enchiladas, guacamole, margaritas and more!
Intimate settings
Learn about ingredients
Visit a local market
Learn how to prepare margaritas
Eat & indulge on your creation
Aromas Cooking Class Itinerary
Frequently Asked Questions
Must do My boyfriend and I went on the food tour and it was the highlight of our trip. Getting to try all the authentic food was a wonder experience. Nav was incredible, so knowledgeable and so much fun! The market was a great break from all the delicious food and very cool. The transportation was air conditioned which was an added bonus
Delicious The tour started ON TIME which was important to my time in Cancun. Nav was an excellent host and made the right recommendations for each stop. The food was excellent and I'm glad we were able to do this tour. The first stop had the best dish overall! With the dessert stop, don't think it taste how it sounds, all flavors were delicious. If they had a second tour route I would definitely do it again.
Great Tour Lots of fun! Claudia was a great guide and adds to the great experience with her humor and knowledge of the tour, the food and Cancun in general. The amount of people made this a great time that was not over crowded.
Great half day trip The excursion was very informative and the chef was very knowledgeable and friendly. The food we made was extremely tasty, we also got to try tamales! Highly recommended.
Great night of food and fun. Bring your appetite! The tour guide Claudia was great. She made the night. 4 great tacos and a cool night market for churos. You go with a group of 8, was fun and so delicious
Good Way to Experience Downtown Cancun We thoroughly enjoyed this food/drink tour through downtown Cancun. It was raining, but we were comfortable inside the tour van with Jorge driving. Our tour guide, Navarro, was knowledgeable and made this tour enjoyable. My favorite stop was the carnitas @ El Polilla. Seeing the murals was a bonus.
Frequent Flyer Chap
2022-11-20
Evening street food tour Fab tour and explanations by Claudia! Visited three restaurants and tasted 7 dishes and enjoyed tequila
Great guide great food The local guide was perfect and entertaining so was the food and places we visited. Extra plus for the shopping time we had.
Excelente Our tour guide Claudia and Alex were amazing! Had an amazing time and Claudia explained everything very well. Will definitely do again. I'm