Delight yourself with the food of Cancun
"The best places to eat in Cancun" is a really long list. Like, really long! There are literally hundreds of restaurants in Cancun so choosing where to eat is no easy task. Our list is proof that there is a Cancun restaurant for all kinds of food-lovers and we are just scratching the surface of the culinary delights to be found. Join us for a Cancun Food Tour for the full five senses experience!
Our local experts have made a list with the very best places to eat in Cancun, you can't resist falling in love with all the incredible food you can find in Cancun!
El Pocito: Best Places to Eat in Cancun For Yucatecan Cuisine
Labna is one of the oldest and most respected restaurants in Cancun. Located downtown Av. Lopez Portillo , Labna has remained the favorite Yucatecan restaurant in Cancun for decades, giving thousands of locals & visitors the opportunity to taste the traditional Mayan Food! Truly authentic cuisine, with great environment & exquisite service, El Pocito is the perfect spot for an adventurous foodie looking to try the local fare.
La Parilla: Best Place to Eat in Cancun for a Fiesta
La Parilla Cancun is the perfect place to experience a typical Mexican Party! Traditional food, excellent tacos, live mariachi & the most authentic Mexican vibes. La Parilla has definitely become a must-visit restaurant in Cancun. A landmark and a legend, the best margaritas in Cancun too.
La Dolce Vita Restaurant: Best Italian Food in Cancun
Traditional Italian food in the heart of downtown Cancun. Since 1983, this restaurant has been classified as one of the top restaurants for repeat visitors both locals and tourists! Their recipes are deliciously authentic,their specials include seafood of the season freshly cooked with delicious ingredients. "Fancy casual" restaurant where wine, pasta and world-class service ensure a perfect night out.
Señor Tango: Best Argentinian Restaurant in Cancun
Inspired by traditional restaurants, cuisine and music from Argentina, "Señor Tango" is the perfect place in the city to try a good prime rib and other incredible cuts of meat. The menu is straight out of an Argentinian steak house with starters like empanadas, salad, pasta & of course, prime cuts of beef. If you've got a craving for a great steak in Cancun, this is your place.
Taste Of India: Great Indian Food in Cancun
Taste of India is the most authentic Indian food in Cancun, absolutely delicious. The curries are incredible, the meats are tender and there are several vegetarian options. The decor is fun and the Bollywood movies playing in the background will have you dancing in your seat. Dessert of gulab jamun is a MUST, sweet and the perfect way to finish a great meal.
La Habichuela: Best Romantic Restaurant in Cancun
La Habichuela Cancun Centro is such an intimate and beautiful spot, it is the perfect spot for a romantic night out in Cancun. The food served here is first class, "Caribbean fusion cuisine" with exquisite seafood, Mexican dishes and premium cuts of meat. Their specialty is the "Cocobichuela", a fresh coconut filled with lobster and shrimp in a curry sauce, it is simply perfect.
Kotaro: Best Japanese Restaurant in Cancun
Kotaro brings the flavors of Japanese cuisine to Cancun foodies, a mandatory stop for sushi and more. The highlights of this restaurant are the famous "gyozas" (really delicious by the way), the well-known "Ramen" & the little known "Tekadon" (rice covered with sashimi)! The ambiance and the presentation of the food is literally from the other side of the world and we are delighted to have great Japanese cuisine in Cancun.
Coapeñitos Restaurant Downtown for the Best Tacos in Cancun
As we are in Mexico, of course we have to include tacos if we're talking about the best places to eat in Cancun! Coapeñitos has a traditional Mexico City vibe and a wall full of iconic posters of the golden age of Mexican movies! Plus, the tacos are mixed with unusual flavors, like the "Coapeno" a taco with chorizo, pork rind & avocado! You´ll never find these kinds of tacos outside Cancun!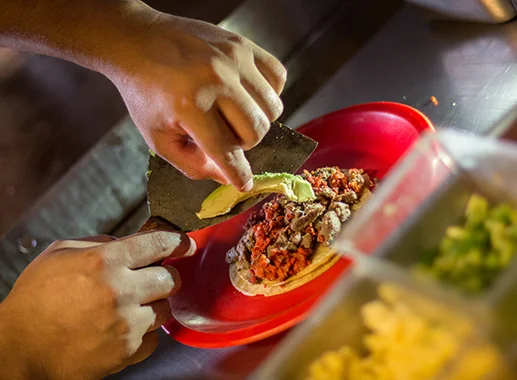 Interested in visiting 4 restaurants on this list?
The best places to eat in Cancun need to be experienced, join us in our Flavours of Mexico Food Tour. Contact us today to discover the magic of cuisine in the best Cancun restaurants and street food stands. Transportation included!