Best local restaurants in Cancun? Well, we'd rather show you than tell you but if you can't enjoy one of our Cancun Food Tours today, check out a list of some of our favorite restaurants until you can get here. We are life-long Cancunenses and we spend a LOT of our time on the hunt for the most authentic Mexican cuisine in town with our friends from all over the country and the world.

Cancun is a really young city in a really old country. Before the 1970's the city was just a sandbar, a lush jungle and a handful of very lucky fishermen and their families living on the shores. By the late 1970's the resort town we now know and love had begun construction and the population doing the building needed to be fed. Just like today, the new residents of Cancun came from all corners of Mexico, bringing with them their regional tastes and recipes.

Every Cancunense has their own list of fave eateries, taquerias and hole in the wall restaurants. Finding the best food in Cancun at the best price is practically a competitive sport between us. Our local experts at Cancun Food Tours have assembled this list just to tempt you!
Las Cazuelas Cancun: Yummy Secret
This Cancun restaurant is a local's delight, known for having the taste of Mexico City! From the typical "pancita" (a delicious soup of cow's stomach) to "tacos de barbacoa" here you'll eat like a real Mexican. Be sure to try the ancient beverage called "pulque" and the salsa made from this drink, our favorite "salsa borracha" (drunk salsa)!
La Borrega – Best Local Restaurant in Cancun for Barbacoa
The highlight of this restaurant is the original "taco de barbacoa" made from lamb instead of beef. This is THE place to taste barbacoa or lechon for the first time and you have got to pair your tacos with a bowl of "consomé", a delicious soup famous as a hangover cure. "La Borrega" is going to delight you with its original taste of the typical "taco stand" from Mexico City with a dynamic and fast-moving ambiance.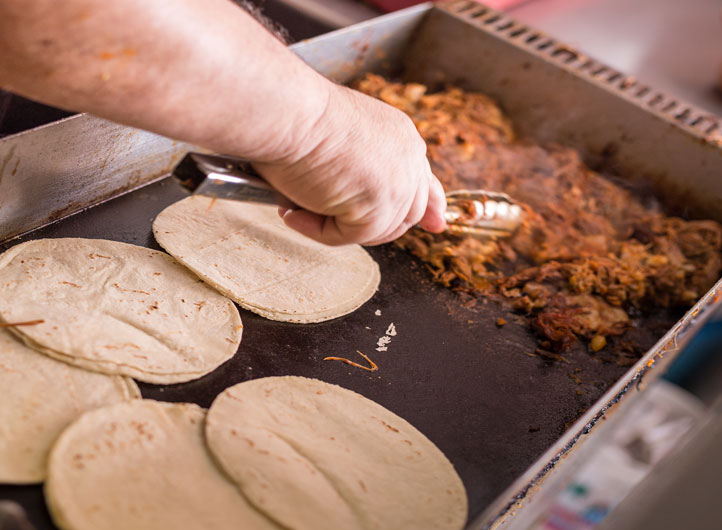 Cancun Restaurant "El Pocito": Yucatecan Delights
A list of the best local restaurants in Cancun MUST include "El Pocito". Yucatecan cuisine is totally unique and Labná is home to some of the best regional dishes in Cancun. With over 20 years of delighting locals and tourists alike, you know it's good. Offering a lovely ambiance & great food, be sure to bring your appetite because you will want to try it ALL. Start with the famous lime soup, dive into the cochinita pibil and queso relleno and oh so many other Yucatecan delights.
Best Local Restaurant in Cancun for a Fiesta – "La Parrilla"
La Parilla Cancun defines what food and fun in Mexico is all about! The menu is a mix of traditional Mexican dishes & new classics like wings, stuffed jalapeños & nachos, tacos de arrachera or a lobster feast, the chefs at La Parilla know how to satisfy your cravings for authentic Mexican food The ambience is colorful and dynamic with live mariachis and warm and welcoming staff, La Parilla Cancun is a fave you will return to again and again.
Kiosko verde Cancun
"Kiosko Verde" has some of the best seafood in Cancun and a menu with dishes from different states of Mexico bringing you a taste of the sea in a variety of ways.Our fave is the ceviche "tostada" mixed with grasshoppers (yes, grasshoppers!) paired with a "mezcal" for a taste of Oaxaca state. A unique culinary adventure in Cancun!
Tacos Rigo: A Delicious Cancun Tradition
Everybody knows "Rigos", a long-time fave of locals for perfect tacos at a great price. The menu goes from breakfast to dinner and late night cervezas, a nice option for visiting anytime in the day! The tacos here are phenomenal and will never let you down. Try the "suadero" tacos or the "tacos de ojo" (eyeballs, are you in?) Tacos Rigo is home of the famous "end of the world" salsa made from spicy habanero chiles & eaten only by the bravest!
Coapeñitos Cancun: Hip Tacos Downtown
One of the newer spots for tacos on this list, but that doesn't mean they aren't good! The specialty of this restaurant is tacos with a modern twist. Their combinations are original and the menu offers some unique blends of flavors. The interior is decorated with a wall full of posters from classic Mexican movies creating a super cool ambience! "Casual hip" dining in Cancun with fabulous flavors and laid-back groove.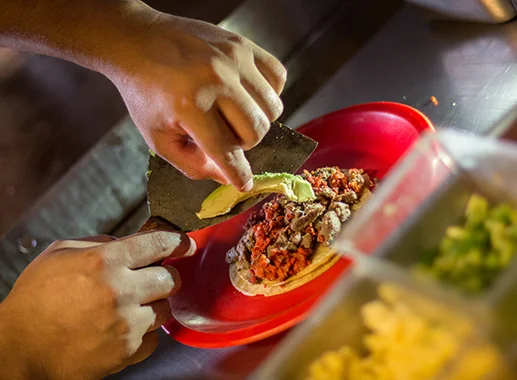 Los Tarascos Cancun: Best Local Restaurants in Cancun for Tacos al Pastor
Last but not least, "Los Tarascos" will take your taco experience to a whole new level with their famous "tacos al pastor" (the best in Cancun) and an extensive menu of taco treats and authentic Mexican combinations. Try the "chicharrón de queso" for a cheesy appetizer or go big with the "Plato Ranchero", a mix of beef, pork, bacon, "chorizo" sausage with a little bit of egg and "queso fundido" (melted cheese pot). You will not go home hungry and you'll probably be taking a doggie bag with you.
Interested in visiting 6 of the local restaurants in this list?
Book one of our Cancun Food Tours (transportation included) and we will show you our faves and satisfy your taco cravings for only $49 USD. Reserve now!