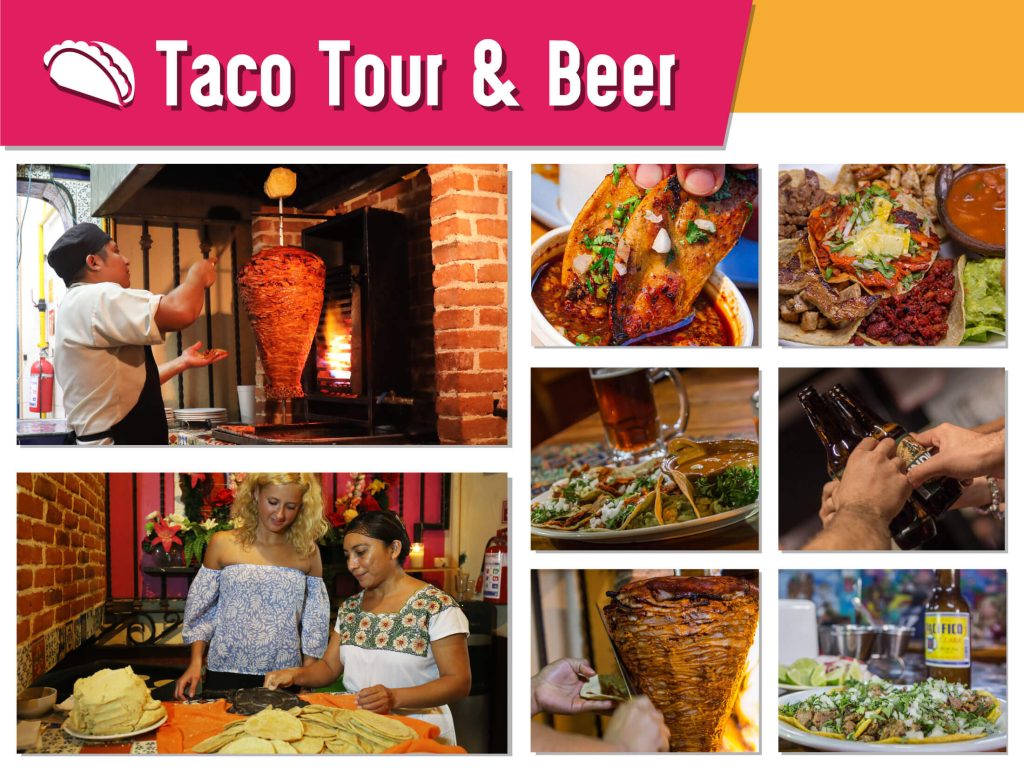 Playa del Carmen Taco Tour
Discover 5 small family-owned hidden gems and meet local food heroes, one taco at a time in our Playa del Carmen Taco Tour & Beer with transportation included
Join the best taco and beer tour, you can eat and drink your way across Playa del Carmen. At each of the five places you'll visit, you'll get a drink and something to eat, and additional free beer will be available in your tour van. You will have some time to yourself after seeing the fifth restaurant (Quinta Avenida) before going back to your accommodation.
Tacos and beer are included
Drink responsibly by having someone else drive.
Travel in a car with air conditioning for comfort.
Enjoy a leisurely stroll along Quinta Avenue.
Start your experience with a prompt and comfortable hotel pick up. Meet your friendly English speaking local guide, who will escort you through the whole tour.
Our tour is hosted by a professional Mexican chef, who will share city's history, the story behind each spot we're visiting and interesting facts about prehispanic ingredients we still use in Mexican cuisine (and that you'll try).
In addition, we'll point to the principal Playa del Carmen landmarks as we move through. Live an authentic local atmosphere in every place while tasting our selection of tacos.
Expect to skip the line and a reserved table in each stop:
Mexico City "Suadero" street style taco.
"Cochinita Pibil". Pulled pork marinated mayan-yucatecan style.
"Birria", as seen in Tik Tok.  Slow-cooked meat stew is marinated in aromatic red chiles and served up with melted cheese tacos.
Prepare your own "Taco al Pastor" in the most iconic Mexican restaurant in Playa del Carmen.
Try the best  regional dessert, the "Marquesita". Rolled crispy crepe stuffed with cheese and your favorite topping.
The secret behind any taco is the salsa. A wide variety of sauces are offered as sides, from mild to spicy.
4 refreshing drinks are included (1 in each stop), plus complimentary ice cold Mexican beers on board of the van. If you're not into beer, natural flavored wáter and soft drinks are also available.
Last but not least, we'll offer free time to stroll around at a local park and the world famous Quinta Avenida, before heading back to your hotel.
Take your tour early in your vacation so that you can return to the spots you enjoyed most, and also to make a few new foodie friends along the way!
Frequently Asked Questions
Playa del Carmen Taco Tour reviews
Fun taco night Guide Diego was very knowledgeable and friendly, it was super fun trip! Weather was quite extreme though, but driver George(? Not sure about his name) was really good at driving on the flooded road. Recommend to future tourists that don't drink too much drinks. You gonna get super full at the end of this trip!
Amazing food-Amazing tour guide. The food was out of this world delicious. Our tour guide Diego and drive Angel we're the best! Diego told us all about the history of the food and gave us his recommendations. Easily, the best night we had on our vacation.
Off the beaten path taco and beer tour This tour was one of the highlights of our Cancun trip. It was my adult son and I and we had a blast. It was great to get out of the tourist area and experience downtown Cancun. Our tour guide Gib was extremely knowledgeable not just about the tacos but also the city. His indepth knowledge made the tlur that much more enjoyable.
Food tour review G and Jorge were amazing! They were caring, gave us safety precautions, took immense care for dietary preferences.
Amazing food! Amazing guide and host! Well worth the money! We absolutely loved this experience, Carlos our guide and chef was amazing and very patient while we took lots of pictures, we where lucky to have a 1 on 1 guided tour, he took us to the local markets that the locals use which was vibrant couleeful and cheap! Everyone was very friendly and Carlos was very knowledgeable about the stores and street food giving us recommendations and history of the market! We then wen to la paroles restaurant with the groceries we picked up from the market. Carlos showed us the traditional ways of cooking guacamole, green salsa, red salsa, enchiladas, pico de gallo and many more recipes. Carlos gave us information and history behind the food and showed us the traditional and quicker ways of making the food! He has even emailed us the recipes to make at home! I cannot reccomend this enough. If you love food and tradition please book well worth the money!
Some of the best food spots! G our tour guide and Alex the driver made this whole experience amazing! G had so much knowledge about the local food and really took us to some of the best spots around. G would tell us about the restaurant we were headed to and what drinks they had to offer so we were well informed by the time we arrived. I will be forever dreaming about the Al pastor tacos at one of the last spots! I couldn't recommend this tour more!!
Amazing birthday gift!!! Absolutely amazing! We learned a lot, felt safe, seen amazing markets, easy transportation and delish foods and drinks! It was my birthday and the staff went above and beyond to make me feel special! I didn't even know they knew it was my birthday!!! Nassim is the bomb!! And he's easy on the eyes!!! Wonderful experience!!!
One of the best parts of our trip This was great every spot they took us to was better then the next I don't eat pork and my boyfriend don't eat meat they accommodated us 100% it was really dope and worth it I am so glad we did this they take you out of the Tourist area but you are safe you get to see a different side and food that you wouldn't get to try at the hotel or resort plus get some history on Mexico and it's food defiantly recommend doing this was one of the best parts of our trip
Crazy if you do not do this!! The best night!!!! Alexis was amazing!!! From start to finish he was engaged, enthusiastic and so much fun to be with. The food we tasted was unbelievable!! It made eating at our resort a disappointment hahaThe wrestling was so much fun to watch. I loved the interaction from the locals and the wrestlers.This is something I will do when I go back to Mexico!!!!