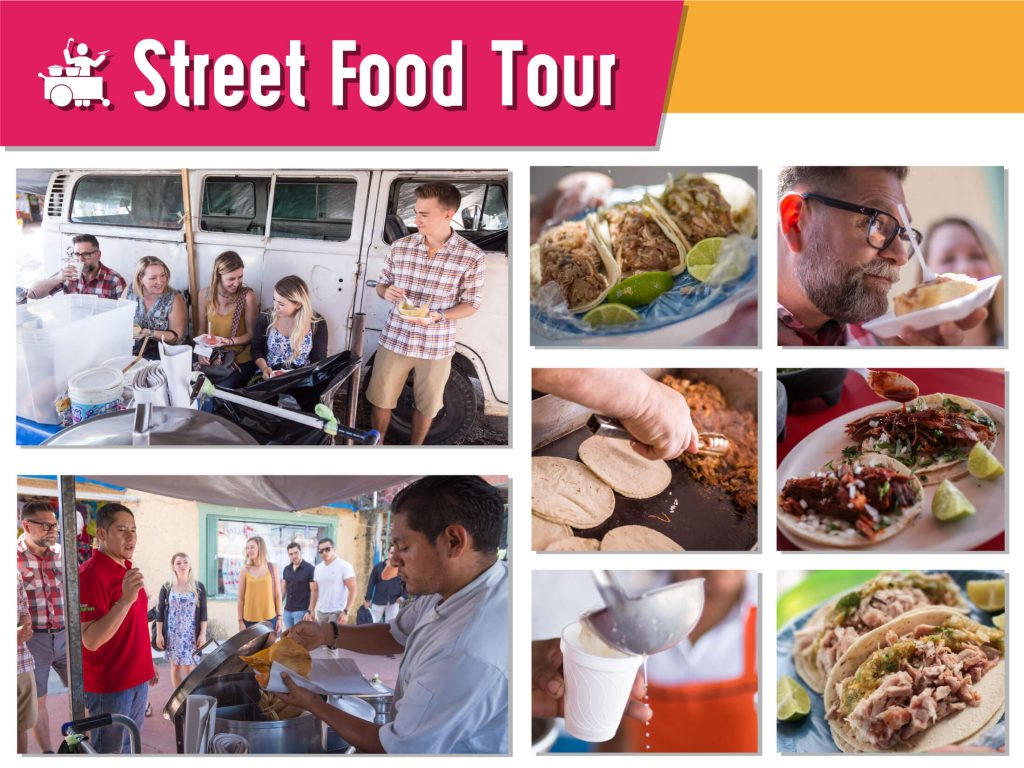 Textures of Mexico Cancun Street Food Tour, Local Market & urban art with hotel transportation
Have breakfast like a real Mexican from the favorite locals' food stands while rejoicing from urban art, and visit a colorful market where the day starts for most in our Cancun Street Food Tour.
Did you know Mexicans also have tacos for breakfast? But are not the same tacos as the night tacos! In the Textures of Mexico Cancun Street Food Tour you'll have breakfast like a real local at the most popular food stands in Cancun while immersing into hidden lanes and streets with vibrant urban art. Learn how Mexicans live through food and visit one of the most important food markets in the city. Transportation from and to your hotel is included.
Visit street food joints you would never find on your own and experience the real Mexican culture and flavors of Cancun like a local.
Indulge different dishes from four different food joints and a refreshing dessert.
Learn the origin of each dish and the history of each taqueria from a friendly bilingual local guide.
Book Textures of Mexico Cancun Street Food Tour and Local Market Visit
Book before Nov 29 for future dates. Applied at checkout
Cancun Street Food Tour and Local Market Visit Itinerary
Frequently Asked Questions
Take the Cancun Taco Tour! Tacos and dessert are excellent. Diego and Leo are great hosts and answered all of our questions. We will definitely book this tour again.
Passenger41860838430
2023-11-18
5 stop Taco Tour - Amazing! Highly recommend this tour! Gi and Alex were amazing. Gi always explained what we would eat and all the about the salsa options. And about the local destination. We were always seated quickly and food and drinks were quick also. The last stop and the market was short and I would have been happy without it. But all in all highly recommend!!💕
Tacos never tasted so good! The food was so amazing and authentic. Our guide Diego was extremely knowledgeable concerning the origins of each dish. The restaurants were as varied as they were colorful. Our driver Alejandro got us everywhere on time so we never had to look for parking! I would highly recommend this tour.
Good and enjoy! We were picked up on time at our hotel. The communication from Hector was really good. The history of both the food and the market were helpful. We enjoyed the preparation and eating while we prepared authentic cuisine. This was an incredibly enjoyable way to spend our time.
Guide33186264474
2023-11-12
Tour de comida excelente Diego y Leo fueron excelente! Diego fue un excelente guía, los lugares estuvieron súper, la comida y bebidas excelente!
Connector46946264966
2023-11-07
Worth every dollar and more Alexis and Damian toured us. The food was excellent, service fast and professional, and every stop was one to remember. Highly recommend. Worth the price and more! (Come hungry - it's more than you think!)
Fun & delicious! Great experience and great food! I recommend not finishing all of the tacos at the beginning to leave room towards the end haha
Cancun Food Stall and Market Tour What an excellent adventure! We wanted to do a couple excursions while on our honeymoon however the rain has been pretty heavy this week so we've been reluctant to book any outdoor or boat tour excursions. We finally booked this morning food tour and it was excellent. Very reasonably priced with authentic Mexican food. The best food we've had our entire trip. Alexis was our guide and he was so friendly and full of knowledge about not just the places on our tour but other things of interest to us. We would definitely book again for their other tours.
Cooking class and shopping experience at the market I wanted to do traditional cooking class while on vacay in Mexico, found this site online and booked it for me and my spouse, it's around $200 for both, included transportation, ingredients and class. We got picked at the hotel entrance door, first we went to the local market to get ingredients and look around, it was interesting experience to mingle between locals and also get authentic souvenirs. Afterwards we were taken to old Mexican restaurant La Pamella where we got to make guacamole and main dishes to enjoy. Margaritas were delicious, beautiful place to eat and enjoy.
Good food and good company Amazing food tour. Gi was a lot of fun and explained everything we were about to eat. We learned a lot about the city too, and made plans to revisit some spots. This is the perfect tour to take on your first night in Cancun.