The best Mexcian restaurants in Cancun are not found in the hotel zone, for truly authentic cuisine you've got to get downtown and eat where the locals eat. Since we are in Mexico, ALL the restaurants should be Mexican, right? We promise not to send you to Mexican McDonald's, we're going to focus on where to get the most iconic dishes of Mexico, are you ready to tantalize those taste buds? Also, you can join our Street Food Tour in Cancun, where we visit the very best local stands in Cancun and you can enjoy real Mexican food as locals do.
Best Tamales in Cancun – Emara Antojitos Yucatecos
Emara Antojitos Yucatecos is a Cancun classic loved by all for their tamales and Yucatecan cuisine. Located across the street from Market 28, Emara is easy to find, totally casual and definitely the place to go for the best tamales in Cancun. Ask for the fresh habanero salsa, it is spicy perfection.
Best Cochinita in Cancun – Locals Love Tres Reyes Restaurant
Tres Reyes is not a fancy or luxurious restaurant but you'll almost always find a line (with social distancing now of course). Cochinita pibil is their specialty and it is phenomenal. You can try to order just a taco or two or a torta but I say go for the kilogram, you're going to devour the deliciousness! Onions, cilantro and habanero salsa are optional but totally recommended for the full cochinita experience.
Best Pozole and One of the Best Mexican Restaurants in Cancun – La Fonda de las Piñata
La Fonda de las Piñatas is truly one of the best Mexican restaurants in Cancun, but we´re going to try to focus on the pozole! "Pozole" is a traditional stew/soup made with hominy, pork or chicken and a blend of spices that will blow your mind. Pozole is a festive and celebratory dish and La Fonda de las Piñatas serves it up in a truly authentic and delicious meal..
Best Tacos in Cancun – Really? I Have to Choose Just one?
Best tacos in Cancun is a whole topic unto itself and I refuse to choose just one restaurant. Los Tarascos, La Parilla, Coapeñitos, Tacos Rigo, La Res Sabrosa, oh man now I am hungry where was I? Right. The best Mexican restaurants in Cancun all serve up a taco or two, join us on a Cancun Food Tour and let us show you because reading about it just isn't going to satisfy anybody!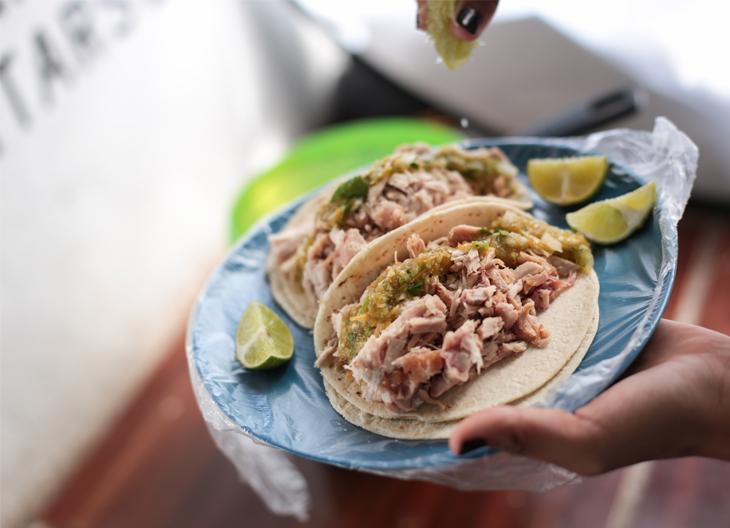 Discover the best Mexican restaurants in Cancun with a local guide!
Enough reading about the best Mexican restaurants in Cancun, reserve a Cancun Food Tour with an expert local guide and enjoy the full five senses culinary experience. Transportation included and all Covid19 measures in place, contact us today to book!