The best tacos in Cancun are not found at big-name chain restaurants. Most people are familiar with the "Taco Bell" type of taco. Buuuuut my dear amigos, that just isn't a real Mexican taco at all. Luckily for you, Cancun has plenty of taquerias where you´ll find the real deal, authentic Mexican tacos that will totally change your life!
Since there is an infinite number of Cancun restaurants to choose from, as locals, we know that finding the most suitable and delicious restaurants on your own can be challenging, so we decided to create a list of what we consider the top taco restaurants in Cancun, where you can enjoy of some great tacos along with a cool beer or a spicy tequila on the amazing ambiance of the Caribbean. By the way, we offer a Taco Tour where we visit Cancun's best taquerias in one day. However, if you'd rather go on your own, we've made this following list not in any particular order but based on the foods that are the tastiest and the ones that have been there for a while, and undoubtedly won't let you down.
Tacos Rigo: Tradition Since 1988
Serving up one of the best tacos in Cancun downtown since 1988, their main wall is adorned with paintings of popular cartoons that are really quite captivating, you can stare at them for hours. With a beer and taco on hand of course. They make some of the best salsas in Cancun (including the famous "end of the world" hot sauce). It is said that tacos are made of 50% filling and 50% salsa. You can bet that the salsas here definitely pull their weight. Tacos Rigo has every type of taco you can imagine from suadero, tripa, cabeza, lengua, and more which makes this joint a must-go.

If this weren't enough the restaurant also features quesadillas, gringas tortas & seafood! We recommend ordering your tacos with the Mexican beer "Montejo" for a fantastic pairing of flavors.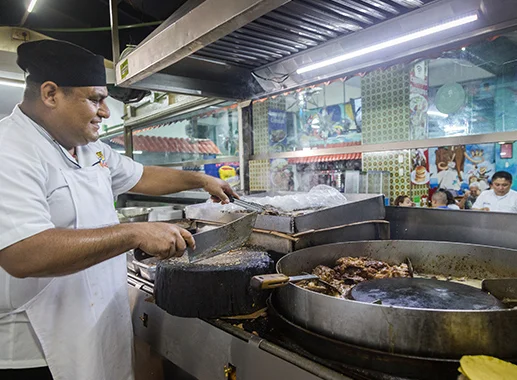 A list of The Best Tacos in Cancun Hotel Zone
Los Chachalacos. They are a very young taqueria with a Chilango aesthetic that is distinguished by their superb meals and the distinctive flavor that only Chilangos know how to accomplish. You'll want to return for more because of the restaurant's 90s-inspired décor, unmatched spice, great service, and generous quantities.
Taco y Tequila are professionals at making delicious Margaritas and authentic Mexican cuisine. Their corn tortillas are freshly handmade and served within minutes of being prepared by their skilled tortilla makers, who have been making tortillas their entire life. We highly recommend this place because while trying all their freshly produced salsas and their delicious al Pastor dishes you can chill while taking in the stunning view of the Nichupté lagoon. Relating to the name of this restaurant, if you're looking for tacos and tequila in Cancun, we have a Taco Tour in Cancun where we offer free tequila tasting booking online.
Tacun. Near the Plaza Flamingos, Tacun offers its guests the chance to sample Mexican cuisine through the best tacos, particularly for its chorizo tacos and its distinctive tacos al pastor. Along with its very accessible costs and its modest interior decorated in a very cozy and humble folklore style, it's a great choice to stop and recharge your batteries.
The Surfin Burrito. With a chill beach ambiance, delicious food, and a cozy atmosphere, not so far from the beach, in the center of the hotel district, lies Cancun's renowned burrito shop. Hang out and eat all day and all night! With fun customed tacos with delicious vegan and meat fillings, burritos, and tropical cocktails, it is a great place to have a break after a long swimming day.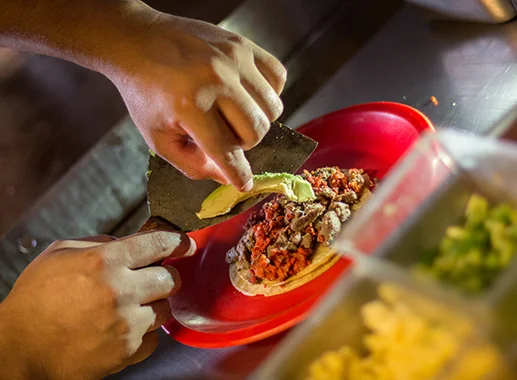 Look No Further Than The Street Tacos Cancun Has to Offer
El Polilla. Originally a handcrafts market, it is now the go-to place for Cancun locals who work in the neighboring offices or are just out for a stroll to buy tacos and other refreshments.
There are local drinks and a variety of daytime foods inside, but the carnitas tacos and other tacos from La Polilla are the most popular and well-known, having earned the love and preference of the cancunenses for more than 20 years.
Los Pareja date back to 2004 when coming from Mexico City with a tricycle and a lot of hope they sold their first tacos in the Politécnico avenue of this city. In "Los Parejas" you can find tacos from Pastor, Adobada, Ribs, Arrachera, etc. always with a warm welcome, friendly service, quality food, and affordable prices which makes them undoubtedly one of the best options to eat tacos in Cancun.
El Ñero. If you're Mexican, you've probably heard of this term before. The name of this modest yet bold restaurant complements the flavors perfectly. People are always in awe of Mexico City's tacos because of how delicious they are and how simple the technique is, and when they get to this place, they keep visiting. Many say they return for the Suadero taco, while others say it's the salsas. However, one thing is certain: it tastes as good as it sounds.
Tacos Israel. In Cancun downtown, another place that has been around for a very long time and offers a great menu and ambiance for the whole family with their famous "Tacos Arabes". Made with a special flour tortilla with delicious meat filling and accompanied by the greatest salsas, even if you are fully satisfied, you'll want to eat more than one.
Try The Greatest Fish Tacos Cancun Has Got
El Fish Fritanga. Offering one of the best services in Cancun's hotel zone since 2004, you'll have a genuine taste of local cuisine in a palapa surrounded by palm trees on the shores of the Nichupte lagoon while enjoying a gorgeous sunset and the cool feeling of the soft sand. Popular for its well-known whiting, a large menu of delectable seafood tacos and tostadas, cocktails, and ceviches, as well as their traditional regional fares like Tikinxic, dogfish bread, and other seafood delicacies.
El Timón de Cancun: Since 1978, this lovely seafood restaurant has been delivering delicious meals, fish, soups, and specialties utilizing recipes passed down from the owners' grandparents. With outstanding service and seasoning. Despite the years has not lost its touch, always maintaining the original flavors of Caribbean cuisine. It has earned being recognized throughout the years as one of the favorite restaurants of the people of Quintana Roo.
Pescado con Limón. It is without a doubt among the best places in Cancun to eat seafood, but its specialty is unquestionably its fish tacos and their different presentations of this dish especially fried or battered fish (which are quite tasty). Located in downtown Cancun inside a local market called "Mercado 28" where handicrafts and traditional music groups that pass by playing some music give that special touch and lots of atmospheres.
Los De Pescado is a company with more than 17 years of experience in creating the best fish tacos, seafood, and the best tamarind sauce. "Los de Pescado" is one of the most renowned places for any Cancunense that with its vast menu has enchanted everyone who visits it, with a great relationship between money and quality, they have such outstanding flavors that it is difficult to stop at just one taco. Over the years they have undoubtedly positioned themselves as one of the favorite places to eat fish tacos.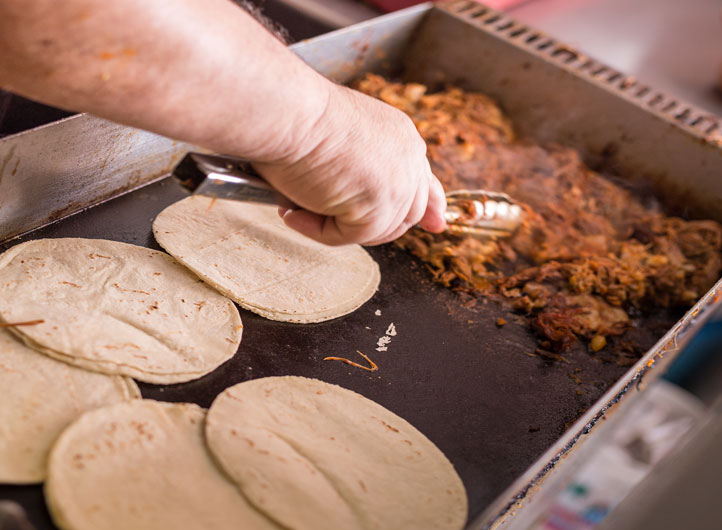 We know that all these restaurants will exceed your expectations and leave you wanting more. So why don't you take a stroll through our Instagram and check out all our amazing Food Tours, where you can have the guidance of our expert locals to boost your gastronomic experience.