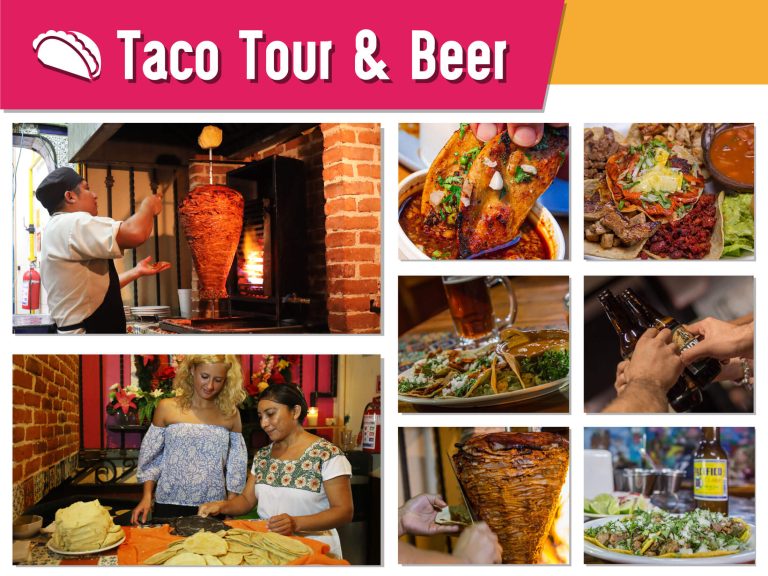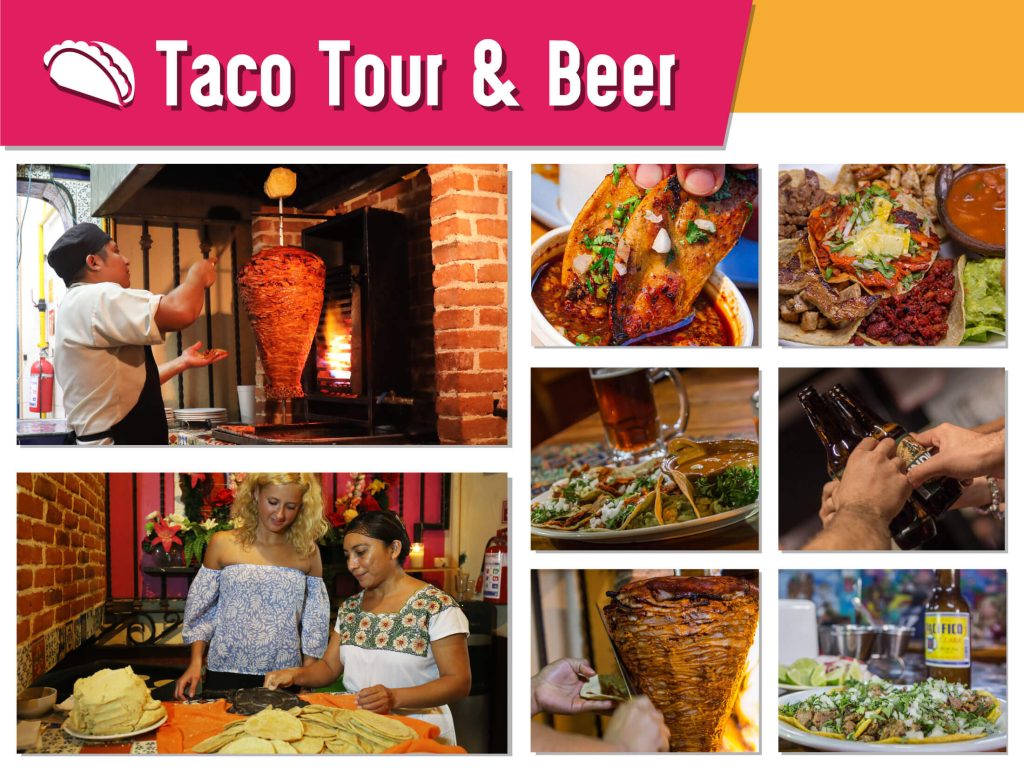 Cancun Taco Tour and Mexican Beer
3-in-1 Cancun Taco Tour with transportation: 4 taquerias, Mexican Beer and a colorful Night Market for a dessert
We are really The Authentic Cancun Taco Tour! We are NOT a walking tour. We visit places that you wouldn't reach by yourself or with any other food walking tour.
Skip the line/no waiting time to be served with an exclusive table for our participants.
Learn about the local Mexican culture and history through the flavors of Cancun and a local guide to explain to you the origin of each dish and local business.
Transportation in an air-conditioned van is included from any hotel in Cancun, Playa Mujeres, Costa Mujeres, Puerto Morelos, and Playa del Carmen.
Tacos and drinks for everybody! Taste a taco and a drink in each taqueria. We promise you will be satisfied.
Transportation Included
Hotel pick-up and drop-off.

Vegetarian and Vegan Options
Everybody can join us!

Personalized Attention
Limited to 12 People per tour
Daily Tour
6:00 Pm - 4 hour activity
Book Cancun Taco Tour and Mexican Beer
Free Tequilia tasting booking online!


What to expect from our Cancun Taco Tour and Mexican Beer
Cancun has been able to establish a very serious and legit taco scene in recent years. But why is that? Cancun is now home to people all over Mexico, attracting people due to a significant amount of job opportunities, people who brought with them their culinary secrets and recipes from their specific region.
North, south, east or west, you can ask a Mexican and they will tell you that tacos are not alike different areas of Mexico. That is why in our "Cancun Taco Tour" we decided to include tacos representative throughout Mexico in order to take you on a journey across our beautiful country through its food (Ahemm, tacos)
How much food will you eat?
Taco de cochinita
Taco coapeñito (Beef, chorizo, chicharrón)
Taco de surtido
Taco al pastor
Delicious local dessert
We also threw in amazing Mexican beers to pair with our tacos, kind of like a beer tasting. Freshen up with 3 different beers that will highlight each taco even more. For non-drinkers, there's also a wide-variety of fresh fruit water, and sodas. Prepare yourself to have a night to remember, eating at the best taco joints in Cancun. You will also have the opportunity to taste hand-made tortillas & enjoy listening to an Authentic "Mariachi" band live. Stop wasting time, don't miss this unique foodie experience, and eat the best tacos in Cancun.
I eat a lot and it's not going to be enough. This tour was made by big guys. However, if at the last taqueria you are not full, you can have more tacos.
Frequently Asked Questions
Gabriela
Tacos!
Shoutout to Sasha and our driver Angel! This was our first time doing a tour like this in Mexico and we learned so much and were super full by the end of the trip! Would definitely recommend this tour and El Pocito was our favorite!
Book Cancun Taco Tour and Mexican Beer
Free Tequilia tasting booking online!