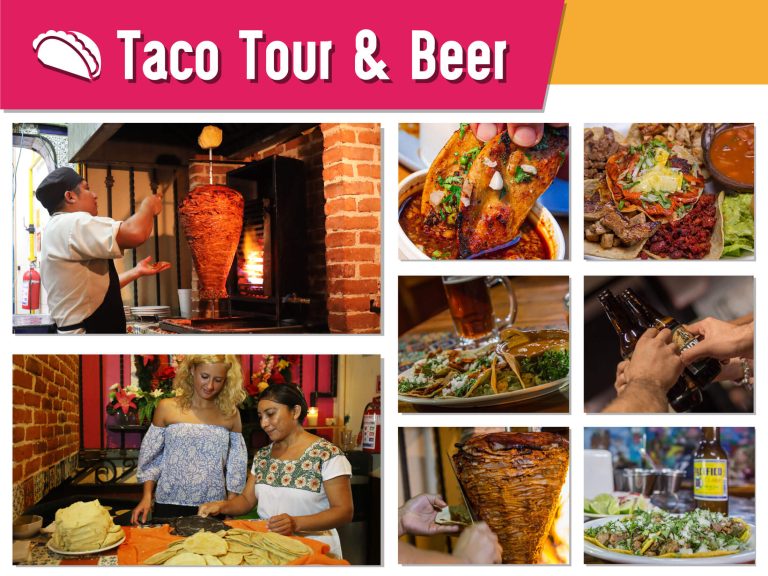 Cancun Taco Tour and Mexican Beer
3-in-1 Cancun Taco Tour with transportation: 4 taquerias, Mexican Beer and a colorful Night Market for a dessert
We are really The Authentic Cancun Taco Tour! Feel like you have visited Mexico without losing the comfort and safety of your resort.
Book Cancun Taco Tour and Mexican Beer
Hotel pick-up and drop-off.

Daily Tour: 5:00 PM - 3.5 hour activity


Taco al Pastor
The most iconic taco in the world from the best taquero in Cancun.
Taco Coapeño
A little bit of everything, the hidden gem taco created in the south of Mexico City.
Taco de Cochinita
The Mayan Secret recipe. Slow cooked pork with ingredients that can only be grown in Yucatan Peninsula.
Taco de surtido
One of the least known tacos, but one of the Mexicans favorites.
Street Market Dessert
Try the exotic Mexican Desserts in a Colorful Market
Tequila Tasting
Try five different tequilas: white, reposado, anejo, coffee, and coco.
What to expect from our Cancun Taco Tour and Mexican Beer
Cancun has been able to establish a very serious and legit taco scene in recent years. But why is that? Cancun is now home to people all over Mexico, attracting people due to a significant amount of job opportunities, people who brought with them their culinary secrets and recipes from their specific region.
North, south, east or west, you can ask a Mexican and they will tell you that tacos are not alike different areas of Mexico. That is why in our "Cancun Taco Tour" we decided to include tacos representative throughout Mexico in order to take you on a journey across our beautiful country through its food (Ahemm, tacos)
How much food will you eat?
Taco de cochinita
Taco coapeñito (Beef, chorizo, chicharrón)
Taco de surtido
Taco al pastor
Delicious local dessert
We also threw in amazing Mexican beers to pair with our tacos, kind of like a beer tasting. Freshen up with 3 different beers that will highlight each taco even more. For non-drinkers, there's also a wide-variety of fresh fruit water, and sodas. Prepare yourself to have a night to remember, eating at the best taco joints in Cancun. You will also have the opportunity to taste hand-made tortillas & enjoy listening to an Authentic "Mariachi" band live. Stop wasting time, don't miss this unique foodie experience, and eat the best tacos in Cancun.
I eat a lot and it's not going to be enough. This tour was made by big guys. However, if at the last taqueria you are not full, you can have more tacos.
Frequently Asked Questions
Must do My boyfriend and I went on the food tour and it was the highlight of our trip. Getting to try all the authentic food was a wonder experience. Nav was incredible, so knowledgeable and so much fun! The market was a great break from all the delicious food and very cool. The transportation was air conditioned which was an added bonus
Delicious The tour started ON TIME which was important to my time in Cancun. Nav was an excellent host and made the right recommendations for each stop. The food was excellent and I'm glad we were able to do this tour. The first stop had the best dish overall! With the dessert stop, don't think it taste how it sounds, all flavors were delicious. If they had a second tour route I would definitely do it again.
Great Tour Lots of fun! Claudia was a great guide and adds to the great experience with her humor and knowledge of the tour, the food and Cancun in general. The amount of people made this a great time that was not over crowded.
Great half day trip The excursion was very informative and the chef was very knowledgeable and friendly. The food we made was extremely tasty, we also got to try tamales! Highly recommended.
Great night of food and fun. Bring your appetite! The tour guide Claudia was great. She made the night. 4 great tacos and a cool night market for churos. You go with a group of 8, was fun and so delicious
Good Way to Experience Downtown Cancun We thoroughly enjoyed this food/drink tour through downtown Cancun. It was raining, but we were comfortable inside the tour van with Jorge driving. Our tour guide, Navarro, was knowledgeable and made this tour enjoyable. My favorite stop was the carnitas @ El Polilla. Seeing the murals was a bonus.
Frequent Flyer Chap
2022-11-20
Evening street food tour Fab tour and explanations by Claudia! Visited three restaurants and tasted 7 dishes and enjoyed tequila
Great guide great food The local guide was perfect and entertaining so was the food and places we visited. Extra plus for the shopping time we had.
Excelente Our tour guide Claudia and Alex were amazing! Had an amazing time and Claudia explained everything very well. Will definitely do again. I'm