Masks of México - Lucha libre in Cancun, Tacos and Margaritas!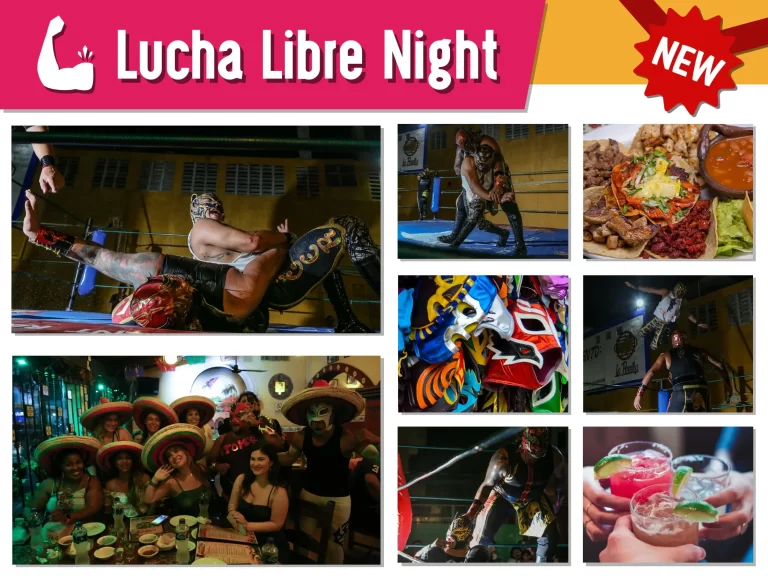 Spice your vacation up with a true adrenaline-fueled Mexican Fiesta by watching a live Lucha Libre show in Cancun, tasting a variety of delicious tacos, and savoring authentic refreshing Margaritas!
Lucha libre in Cancun, Tacos and Margaritas Tickets
Hotel pick-up and drop-off.

Thursdays: 6:00 Pm - 3.5 hour activity
Free Tequilia tasting booking online!


Learn the history and secrets of Mexican wrestling, how everything started back in 1840, why "Luchadores" wear a mask, if Nacho Libre is real, and a full explanation of the rules so you can cheer with the locals as one of them!
Lucha libre is more than colorful masks, rapid sequences of holds, acrobatics and flying attacks. It is part of Mexican's culture and we are here to prove it!
Discover why Lucha Libre is the 2nd most popular sport and children's favorite in Mexico.
Even when this is a public event, only few are allowed to get in, as the entrance is hidden in a restaurant's kitchen (speakeasy).
If this wasn't enough, ringside seats will be waiting for you.
We guarantee you'll have a fun, unforgettable time even if you haven't been to a Lucha Libre match before.
Forget worrying about how to get to the location, we have solved everything for you with transportation from and to your hotel!
Of course snacks (esquites, chicharrones, homemade popcorn), food (5 different tacos, guacamole, frijoles charros, grilled onion, salsas) and drinks (Margarita and beer) are included.
This tour happens only once a week, and offer very limited capacity, so if it happens that you are in town during Thursdays, you can't miss out!
Sounds like fun? There's still much more (and it's all included):
Get your Margarita served in a branded 22 oz. yard (and take it home a souvenir).
Wear your own Lucha Libre mask (and take it home a souvenir).
Learn how to do hand-made  tortillas (make and eat your own!).
Listen to an authentic "Mariachi" band live. 
Walk through the first park in town +50 years old (now used as a night market).
Free Tequila Tasting:

Taste 5 different tequilas
Learn how to taste it properly to enhance flavor and smell of each kind of Tequila
Learn how to find and select good tequilas. Never be fooled again!
Learn easy but delicious tequila cocktails récipes
Learn the process and effort put behind every Tequila bottle
What to expect from our Lucha libre in Cancun, Tacos and Margaritas Tour
Start your experience with a prompt and comfortable hotel pick up.
Meet your friendly English speaking local guide, who will escort you through the whole tour. 
Our guide will explain everything that has to do with Lucha Libre and its relation with Mexican families.
You'll also learn the rules and interesting facts, so that you can truly enjoy the show.
Itinerary featuring 5 stops:
Enjoy a refreshing beer and regional snacks at a local taquería where the owners are true Lucha Libre fans. You'll be able to find out just by watching the posters on the walls and the shows played on the TV.
Visit to El Palacio Municipal (Government's Hall). Take a picture and learn abour our city's history.
Visit to Parque de las Palapas, the first park in town, now used as a night market. Enjoy a delicious "esquite" (corn in a cup).
Dinner at the most iconic Mexican restaurant in Cancun, La Parrilla which is 47 years old.
5 tacos: Pastor, chorizo, Arrachera steak, pork chop, chicken.
"Frijoles charros" (beans soup).
Guacamole
Lucha Libre show with a fair atmosphere, and food stalls around.

Chicharrones
Palomitas
Churros
Our menu considers options and substitutions for any food preference or restriction:
Vegetarian
Vegans
Gluten free
Allegies
Not drinking alcohol
Frequently Asked Questions
Must do My boyfriend and I went on the food tour and it was the highlight of our trip. Getting to try all the authentic food was a wonder experience. Nav was incredible, so knowledgeable and so much fun! The market was a great break from all the delicious food and very cool. The transportation was air conditioned which was an added bonus
Delicious The tour started ON TIME which was important to my time in Cancun. Nav was an excellent host and made the right recommendations for each stop. The food was excellent and I'm glad we were able to do this tour. The first stop had the best dish overall! With the dessert stop, don't think it taste how it sounds, all flavors were delicious. If they had a second tour route I would definitely do it again.
Great Tour Lots of fun! Claudia was a great guide and adds to the great experience with her humor and knowledge of the tour, the food and Cancun in general. The amount of people made this a great time that was not over crowded.
Great half day trip The excursion was very informative and the chef was very knowledgeable and friendly. The food we made was extremely tasty, we also got to try tamales! Highly recommended.
Great night of food and fun. Bring your appetite! The tour guide Claudia was great. She made the night. 4 great tacos and a cool night market for churos. You go with a group of 8, was fun and so delicious
Good Way to Experience Downtown Cancun We thoroughly enjoyed this food/drink tour through downtown Cancun. It was raining, but we were comfortable inside the tour van with Jorge driving. Our tour guide, Navarro, was knowledgeable and made this tour enjoyable. My favorite stop was the carnitas @ El Polilla. Seeing the murals was a bonus.
Frequent Flyer Chap
2022-11-20
Evening street food tour Fab tour and explanations by Claudia! Visited three restaurants and tasted 7 dishes and enjoyed tequila
Great guide great food The local guide was perfect and entertaining so was the food and places we visited. Extra plus for the shopping time we had.
Excelente Our tour guide Claudia and Alex were amazing! Had an amazing time and Claudia explained everything very well. Will definitely do again. I'm