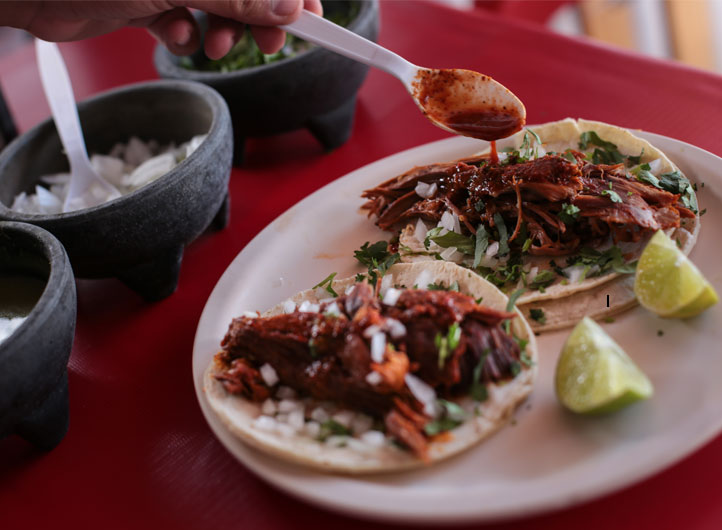 The best tacos in Cancun are not found at a big-name chain restaurants. Most people are familiar with the "Taco Bell" type taco. Buuuuut my dear amigos, that just isn't a real Mexican taco at all. Luckily for you, Cancun has plenty of taquerias where you´ll find the real deal, authentic Mexican tacos that will totally change your life!
Since there is an infinite number of Cancun restaurants to choose from, we needed to comprise a list of the best taco joints to help you out. The following list is in no particular order. All of these spots have something in particular that make them unique, we will explore these differences for you to choose which tacos are going to set your taste buds on fire.
Before starting with the list, we have a Cancun Taco Tour that visits 4 top-notch taquerias on a single day. Take a look here.
Tacos Rigo: Best Tacos Cancun Tradition Since 1988
Serving up the best tacos in Cancun downtown since 1988, their main wall is adorned with paintings of popular cartoons that is really quite captivating, you can stare at it for hours. With a beer and taco in hand of course. They make some of the best salsas in Cancun (including the famous "end of the world" hot sauce). It is said that tacos are made of 50% filling, 50% salsa, and you can bet that the salsas here definitely pull their weight. Tacos Rigo has every type of taco you can imagine from suadero, tripa, cabeza, lengua and more that make this joint a must-go.

If this weren't enough the restaurant also features quesadillas, gringas tortas & seafood! We recommend ordering your tacos with the Mexican beer "Montejo" for a fantastic pairing of flavor.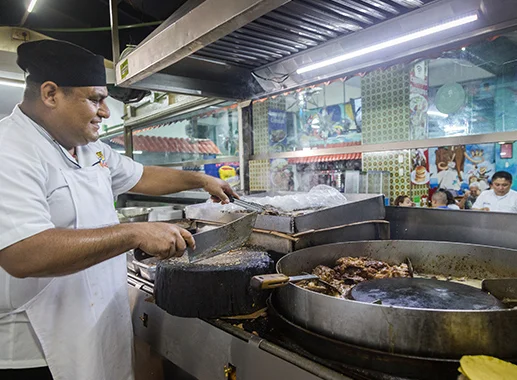 Taquería Coapeñitos Cancun: A Taste of Mexico City
The best tacos in Cancun come from all over our fine country, each region with a unique taste and combination of tortilla types, meats, and salsas. Taquería Coapeñitos is a Mexico City style restaurant that offers authentic favorites and funky combos. You can't go wrong with the house specialty, Taco Coapeñito, layers of flavors and textures that will blow your mind . Here you'll find another decorated wall, a totally cool display of posters from Mexican movie icons from the golden age of Mexican Cinema (1960-1970).
Pair your Coapeñitos tacos with a cold Modelo Negro or a shot of the house mezcal.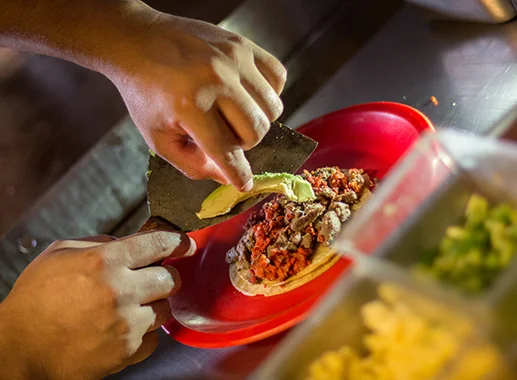 El Polilla: Best Tacos Cancun, Street Food Style
Serving up the best tacos in Cancun for the past 16 years, "El Polilla" is a tradition for Cancun locals for the yummiest carnitas tacos. Located on Av. Nader in downtown this "hole in the wall" type of street food joint invites you to savor the flavor of "carnitas", a pork-based recipe that will melt in your mouth. This dish comes directly from Morelia, a state close to the center of Mexico where carnitas were born. Our favorite taco, "de surtida" (mixed) is delicious, while you can still order something more lean like taco "de maciza", or enjoy sesadillas (meat and cheese)
The best part, get ready to leave full since their tacos are fairly huge. This place is the true definition of "bueno, bonito y barato" – Good, pretty and cheap
Want to Try the Best Tacos Cancun? Follow a Local and Enjoy a Cancun Food Tour
La Parilla Cancun: A Fiesta of Food and Fun
One of the oldest Cancun restaurants on this list, "La Parilla" has been in Cancun since 1975, proving its quality year after year & delivering a fun Mexican fiesta with live mariachi, colorful decorations & great food! Locals and tourists alike make this a restaurant for a special occasion with some of the best tacos al pastor in the city, delicious arrachera tacos and the absolute top margaritas in Cancun.
La Borrega: Best Barbacoa in Cancun
A Cancun restaurant tradition, generally a Sunday morning gathering place to enjoy tacos de barbacoa made from lamb instead of beef. Their menu includes other dishes like "pancita, "mondongo", broth based meals & other types of taco, the lechon is to die for! For their unique menu alone, La Borrega must be on your list of the best tacos Cancun has to offer! Quench your thirst with "aguas frescas" or a nice cold Dos Equis to complement your meal.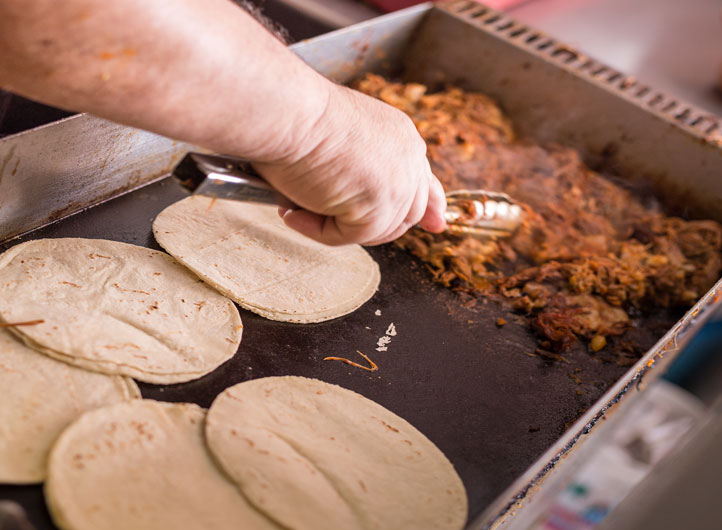 Chow Down on the Best Tacos in Cancun, Join us for a Cancun Taco Tour!
Take our Cancun Taco Tour (transportation included), book it right here on this page and we will take you to try 5 of the local restaurants included in this list for only $59 USD!