Where to eat in Cancun is THE question on all travelers' minds, vacation is time to forget about the diet and dive into deliciousness. There are hundreds of Cancun restaurants for all tastes and budgets, from street corner taco stands to elegant and luxurious restaurants serving the fanciest of dishes. You will not go hungry in Cancun.
Despite the relatively young age of Cancun, the history of its cuisine is rich and the food is out of this world. The city was built by people from all over Mexico and they brought their flavors and traditions with them, creating a culinary mosaic of taste that begs to be explored.
Food in Cancun can be excellent, abundant seafood, local specialties & even food from other countries!
Deciding where to eat in Cancun is hard if you don't know where to start, with that in mind, we want to present to you an insider's guide for dining in Cancun including markets, taquerias, local restaurants and some international options too! If you want to save up the time of deciding the best places to visit by yourself, join our Cancun Food Tours.
An Insider's Guide to Where to Eat in Cancun
"Mercado 23"
Located in the heart of downtown Cancun, this market (like almost all markets in Mexico) has a charming little food area, where you can sit, order what you want & get it at the moment! Try sopes, panuchos and all kinds of tacos and tortas. All the food is from the market itself, so it will be fresh & made in the moment, what else could we ask for?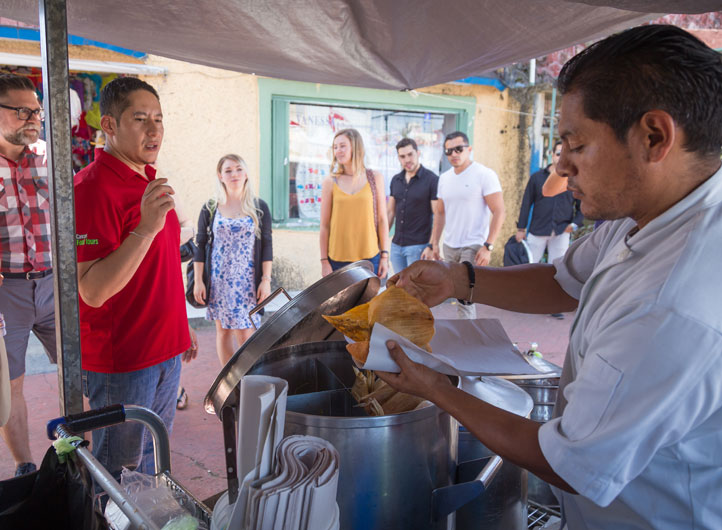 Isla Contoy
Easily the best place for seafood in Cancun's downtown, with a beautiful decor that makes you feel like you´re in the sea.The menu includes all the dishes you can expect from a seafood restaurant in paradise with grilled fish fillet, squid cooked at any style, oyster, conch, shrimp, & more!
Nader Avenue
The design of Nader Avenue is inspired by other vibrant streets from larger cities in Mexico (Guadalajara, Ciudad de México, Monterrey).Nader Avenue is full of many different places to eat! Sushi, hamburgers, tacos, fancy restaurants, seafood, the list goes on & on. This avenue is not too far from the entrance to the hotel zone & it's easy to find, highly recommended if you don't know what to eat and are looking for inspiration.
Coapeñitos
In Coapeñitos you´ll find tacos, but not the classic ones, here there is a modern and delicious twist! Ask for the house speciality, you can't go wrong! Pair your meal with an icy cold Mexican beer or a shot of tequila with sangrita. The walls are adorned with funky posters of classic Mexican cinema and the vibe is "hip and casual". Definitely worth a visit to centro.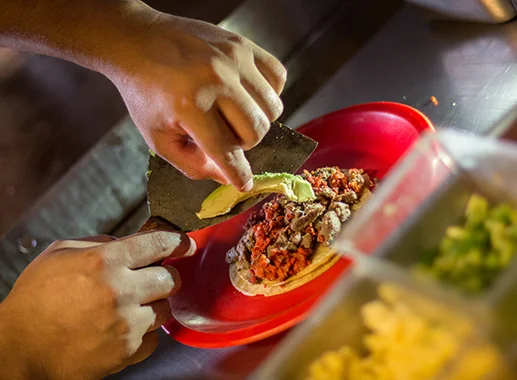 El Polilla
More tacos on the way! The biggest difference from Coapeñitos is that "El Polilla" has carnitas tacos (pork) one of the favorites among Mexicans! You'll experience a very local way to eat tacos and a flavor you will long for when you return home.
A la Burger
Looking for hamburgers beside McDonalds, Burger King or Carl's Jr? A la Burger has the most exquisite hamburgers in all Cancun, and they are completely local! From the traditional hamburger, to burgers with seafood & others with toppings like gouda, bacon, mushrooms, avocado and more. Yummy fries and totally tasty onion rings complete your Cancun hamburger adventure.
Puerto Cancun is Where to Eat In Cancun For ALL Tastes
Located at the first km of the hotel zone, this shopping mall is brand new! The best part of it is a very tasty and luxurious food area. This is not the usual fast food court from a generic shopping mall, this is gourmet goodness with incredible views looking out towards the sea. Hamburgers, Mexican cuisine, Italian food, Japanese, Vietnamese & others make "Gourmet District" the right place to fit your hungry mood and a great option for families who just can't agree on a restaurant. Everyone wins, here are a couple of our faves.
Hanoi
Hanoi is inspired by Vietnamese street food, you'll find it in the above-mentioned "Gourmet District"! Have a craving for the taste of Vietnam in Cancun? This is the place to do it! Featuring vegetarian options & gluten-free choices, the ingredients are fresh and the pho is fabulous.
Corazón de Mexico
Returning to our roots, "Corazon de México" meaning "Mexico´s heart" is food from all over our beloved country! Here you'll find various Mexican dishes from different states, it even has the famous grasshoppers Oaxaca style! A great spot to eat authentic Mexican food in Cancun with flautas, quesadillas and of course, tacos and tortas with an elevated style.
Temaki
Japanese food in Cancun, proving once again that gourmet districts can definitely fit any hungry mood. Teppanyaki, sushi, sashimi, oh my! Temaki has all your favorite rolls and Japanese delights, all served in the beautiful setting of Puerto Cancun's Gourmet District.
Let Us Show You Where to Eat in Cancun, join us for a Cancun Food Tour!
Our Street Food Tour in Cancun includes transportation and we take you directly to eat the best food in Cancun for Only $49 USD Book Now!